MILAD KHAWAM X THE LAST POSTMAN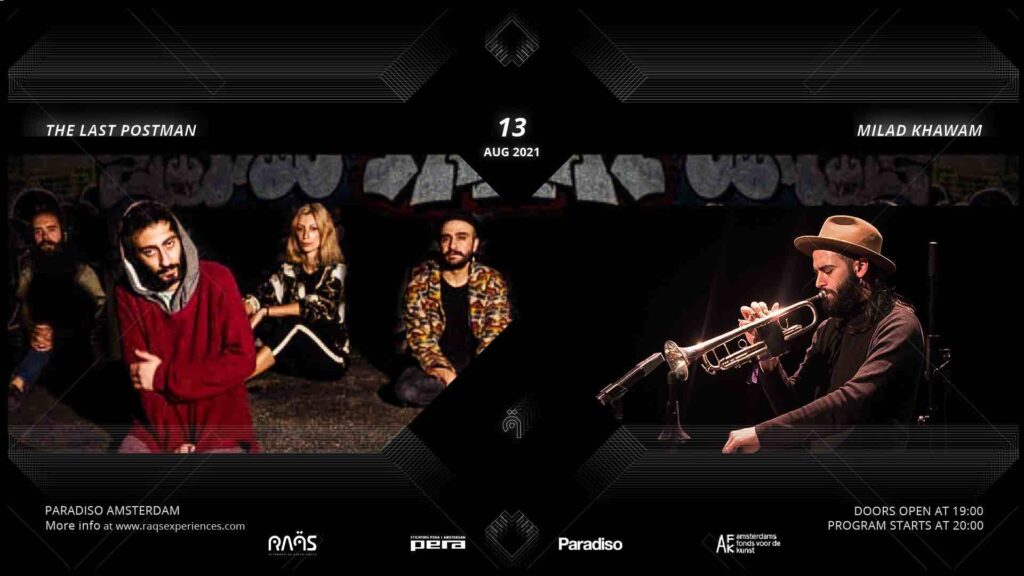 Raqs held a special concert in the exceptional times of COVID-19 and took a step into the wonderful world of contemporary music from the Levant in the old church of Paradiso Amsterdam where music and magic are found. on 13.August.2021.
The Last Postman is a dream-pop/psychedelic-indie experiment with live electronic elements and found objects. Their first EP "Two Years Later" is out about a year ago.
The Last Postman was founded by Muhammad Bazz and Louay Kanawati in Istanbul early 2015, then consolidated with the rest of the members; Bahila Hijazi and Hekmat Alkassar alongside the visual artist Mohamad Mousalli in Berlin 2016.
In Istanbul, they initially composed and recorded four experimental racks that gave them the opportunity to win a Musicboard Award in Berlin to record their album later on.".
Milad Khawam is a Trumpet player, Producer & Composer, based in Berlin and hailing from Damascus, where he studied classical and Arabic music. Khawam also produces electronic music and can often be found performing solo, combining classical and electronic music for an unconventional approach to the Trumpet. His debut album TO THE WEST was released in 2020 on XJAZZ Music Berlin with the support of Ettijahat-Independent Culture and the Goethe Institute.
At a very young age Khawam became principal Trumpet player in many Orchestras such as; Syrian Children Orchestra, Orchestra Solhi Al-Wadi Institute, then at the National Orchestra of Arabic Music, Syrian National Symphony Orchestra.
Khawam participated in a number of concerts and festivals between EU & ME such as Baalbeck Festival, Ehmej Festival, Morgenland-fest, Fusion festival, Jazzaar global ensemble, CTM-Festival and shared the stage with drummer Billy Cobham and commissioned to compose and perform a music piece related to an object from the Abbasid Era called Aquamanile for the Museum of Islamic Art in collaboration with Piranha records.