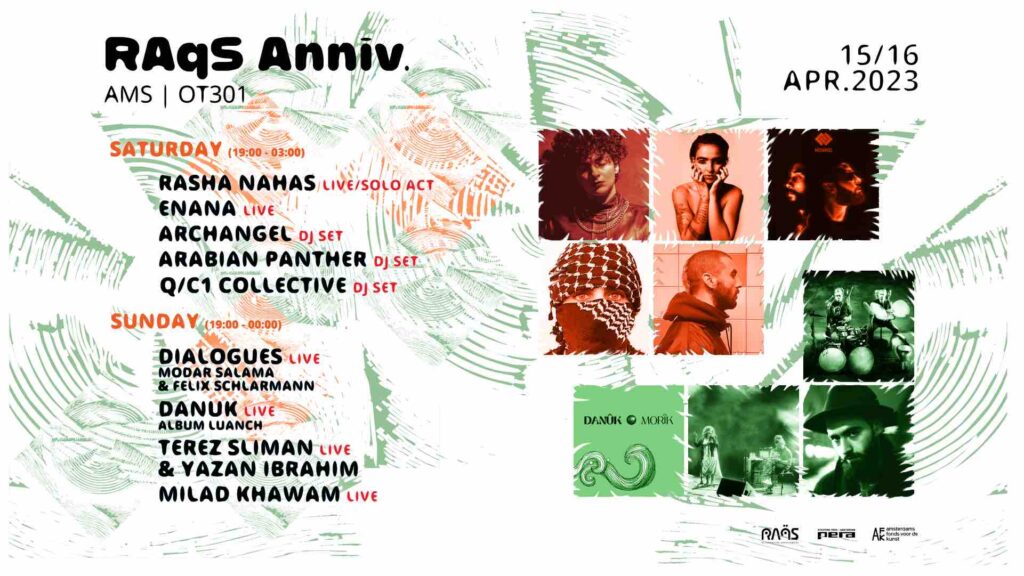 RAqS's 6th anniversary! Featured 8 acts (Live shows and Dj sets) – over 2 days of musical exploration and delight – showcasing diverse music genres. Spanning from acoustic to electronic, theatrical rock to progressive hip hop, folk, Kurdish & Arabic in ambient and electronic music styles, melodic techno and more! 15/16 April 2023
Enana is a trans non-binary Rapper, singer-songwriter, performer and activist Who's artistic engine has always been fueled by their quest for freedom and social justice. In the last years they have been nurturing a unique sound that represents their intertwined existence, being born in Damascus & based in Berlin since 2015.
Enana is the Sumerian goddess of love, war, sex and fertility Much like their name, Enana is a multi-dimensional artist.
Arabian Panther tells the stories of a lonely warrior fighting for peace and justice. From warrior-march anthem to club banger tinged with arabic scales and middle eastern instruments : it's all about Hafia and versatility through his Dj sets and production.
Playing on stage masked behind a black keffiyeh, he leaves the spotlight to the character he has created and to show his support to the Palestinian cause and to his roots. This project is a tribute to his roots, a French child from the Lebanese diaspora.
He has, since many years, the will to spread a wide array of genre during his Dj set, with a "fast transition" approach : a real journey between BPM and vibes, from 90bpm percussive productions, 110 to 140 Italo Body Music, Slug rave, Techno and EBM, to 150+ Trance, Breakbeat etc. This versatility is also the special touch of the "Toulouse Gouffre Club" (the label and parties he has created in 2019 with his musical family from Toulouse. He signed his first track on the first Palestinian techno label "Ha rara" and was able to perform twice in Ramallah and Haifa in 2019. After three EP "Heart Filled With Sand" (2019), "Rise of the Panther" (2020), "The Way of the Penitent" (2021), and more than 20 other tracks across differents labels (Ritmo Fatale, Dischi Autunno, Hardfist, ComicSans, AreaZ, Soil Records etc.) he's working on a third EP, his first album and a Live Act (A/V) for 2024.
ArchAngel is the artistic name of Manar & Fares Al Sammour's project, two electronic music producers, DJs and brothers from Damascus. They split since 2015 and have been operating ArchAngel oversea between Amsterdam and Beirut, translating their artistic vision and ideas into creations of cinematic, deep, yet imperceptibly driving dance and melodic techno.
Qusay Awad (He/Him, B. 1995, As-Suwayda, Syria) is an architect and multidisciplinary artist working with spatial 3D design, video and sound. Awads works are mostly influenced by his versatile life experiences with existence, self, displacement and freedom. He is member of Syrbanism the Young Syrian Urbanists, C1 collective and scholarship holder by FES.
Awad started studying architecture at Damascus University in Syria and is completing his studies in master degree at the TU Braunschweig in Germany. He worked for Staab Architekten (project of Bauhaus Archiv), Czaia Architekten and Carpaneto Schöningh Architekten.
Awads artworks and installations were presented at Documenta 15 in Kassel, Maxim Gorki Theater, CTM-Festival and ZKU in Berlin.
Dialogues – Modar Salama and Felix Schlarmann are exploring their musical journey together with their project Dialogues which is based on experimenting, searching, and developing rhythms and sounds. Their paths crossed in Amsterdam and the click they had, both on a humanitarian as on a musical level, was very special to both of them. It created more than enough motive to start creating together using the combination of traditional Arabic percussion instruments such as the riq or the frame drum, with its unique rhythms, and drums and jazz-oriented rhythms. The use of electronics, effects, and drums places the music into modern times and melts the instruments of both players together, and creates a new sound field. 
Danûk, a group of young musicians who share their love for Kurdish folk music come together on Morîk to reignite a shared consciousness of the value of homeland through the rediscovery of centuries-old sounds.  Danûk manifests archived phonograph recordings of Kurdish folklore and wedding songs that have been preserved in wax cylinders and discs for more than a hundred years in The Berliner Phonogramm-Archiv and The Phonogrammarchiv of the Austrian Academy of Sciences, into phenomenal auditory icons of profound cultural heritage and identity. The album was produced by Michael League (Snarky Puppy) with the support of the British Arts Council, in 5-time Grammy Award-winning League's Studio 20.
Morîk will be out on Omni Sound on May 19, 2023 Morîk, the band's debut album, is a flawless, rhythmic homage that resurrects a treasured past at the axis of the present and future. Made by Austrian and German explorers at the start of the 20th century, sounds of a Syrian priest singing in Jerusalem ("Axir Zemana" , "Lo Lo Li Mino") Kurdish shepherds' songs, and locals singing Kurdish folklore in Sendshirli excavated sites (present-day Turkey) ("Xelîlo Lawo", "Lê Lê Mi Go"), are recomposed, giving new life to the aural aesthetics of a multicultural time and place. Four songs adapted from the wax cylinder and disc recordings and five traditional Kurdish folklore and wedding songs ("De Çêkin", "Finciko", "Şewqo", "Girê Sîra", "Lo Şivano") transmit an aural experience of inflexible symbolism. Morîk, meaning pearl, resonates with the band's discovery of light and meaning from what might have been forgotten.
Terez Sliman and Yazan Ibrahim are two musical pioneers of the acoustic, hybrid genres and folk scene in the Levante bringing together soulful and socially conscious songs to a backdrop of blended rhythms of flamenco guitar and the modalities of Arabic maqams. Their performance featured some of their best works, from the iconic "Shahrazad" to the smooth and intimate sound that they forged together in "Will you come dream" to calling out the patriarchal norms in society and consecrating womanhood in "A Prayer".
Oscilating between word and voice, straddling between the personal and the public, Terez Sliman is an independent Palestinian singer, songwriter and founder of Nafas workshops and retreats, drawing out the raw human experience and turning sorrows and anger into songs through her congenial sounds. Born in Haifa, and raised between Haifa, Akka and el-Bi'ineh village, Terez delights herself in the joys of singing through a musical repertoire built upon unique lived experiences. Driven by her innovation, vulnerability, and strong sense of belonging, Terez shatters social taboos and anchors her works in the Mediterranean surroundings while flowing within wider sensualities. Her revolutionary spirit manifests in an authentic sound that quenches the spirit's need for the deep, meaningful and the natural.
Yazan Ibrahim is a trailblazing independent Flamenco guitarist from the Occupied Golan Heights. His passion for Andalusian musical flavours took him from his homeland in Majdal Shams to study flamenco guitar in Granada where he attended the Carmen de las Cuevas school, in addition to the "Rafael Orozco" Superior Conservatory of Music in Córdoba, with teachers such as Paco Serrano, Manolo Franco, Carlos Pacheco, Manuel Cera Vera, Nino De Pura, Gabriel Exposito. His innovative collaborations included his solo project Shams, Yunamàn (Greek music), Danuk (Kurdish music), Toot Ard (root, rock, reggae), Terez Sliman (jazz, folk, rock), Cremita Jam (Flamenco Jazz), Jorge Pardo, Paquete, Amparo Sànchez, and many more.
Milad Khawam is a Trumpet player, Producer & Composer, based in Berlin and hailing from Damascus, where he studied classical and Arabic music. Khawam also produces electronic music and can often be found performing solo, combining classical and electronic music for an unconventional approach to the Trumpet.
His debut instrumental album TO THE WEST was released in 2020 on XJAZZ Music Berlin with the support of Ettijahat-Independent Culture and the Goethe Institute.
At a very early age he became principal Trumpet player in many Orchestras such as; Syrian Children Orchestra, Orchestra Solhi Al-Wadi Institute, and then at the National Orchestra of Arabic Music, Syrian National Symphony Orchestra.
Khawam participated in a number of concerts and festivals between EU & ME such as Baalbeck Festival and Ehmej Festival in Lebanon 2014-2015, Morgenland-fest 2016, Xjazz-fest Berlin 2018, Fusion 2018, Jazzaar global ensemble in Switzerland 2019 and CTM-Festival 2020 and shared the stage with the likes of acclaimed drummer Billy Cobham and commissioned to compose and perform a music piece related to an object from the Abbasid Era called Aquamanile for the Museum of Islamic Art in collaboration with Piranha records in Berlin 2019.