RAqS ft. Electro Tarab Classical String Trio & Haykal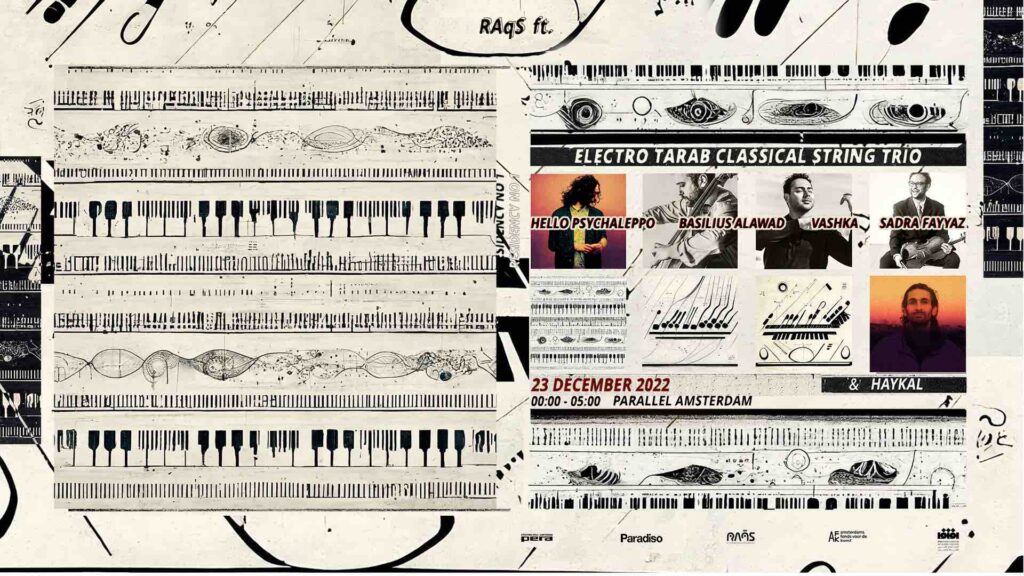 Electro Tarab Classical String Trio – was the first show of artist residency with HELLO PSYCHALEPPO (music producer/visual artist) and Basilius Alawad (composer/cellist) together with Vashka (violinist) and Sadra Fayyaz (violinist and violist) | This electronic and classical mashup of heavy beats, distorted strings and lots of bass. re-imagined the top tracks of Hello Psychaleppo along with unreleased ones.
The night started with Ramallah based – Palestinian rapper and electronic music producer Haykal
Hailing from one of the most mystical and musically rich cities in the Levant, Hello Psychaleppo is deeply rooted in oriental music tradition. using melodies of the Arab Bedouin "Mawwals" and the ecstatic strains of Tarab, and threads it through convoluted, industrial structures made from dubstep, drum & bass, electro and trip-hop. He creates a journey away from boundaries of style, engaging souls into letting go while experiencing a new dimension of sonic blends.
Basilius Alawad is a Syrian composer and cellist based in Berlin. His music style covers a variety of genres including film scoring, modern Arabic music influenced by a contemporary approach as well as electro acoustic music. 
Basilius has performed and premiered his compositions at prestigious festivals and concert halls in Europe such as Weimar Kunst Fest, Berlinale 2016, Pierre Boulez Saal, Grachtin Festival, Roskilde Festival, Rudolstadt Festival and Morgenland Festival where he recently made his debut with the Osnabrücker Symphonieorchester for the premier of his freshly composed "Arabesque: a dialogue for Violoncello solo and Orchestra" under the baton of Daniel Inbal. Alawad shared the stage with distinguished figures such as legendary cellist Yo-Yo Ma at the opening week of the Elbphilharmonie in Hamburg, Emmy award winning composer Kinan Azmeh, Dima Orsho and Naseer Shamma in Venues like Muziekgebouw, Berliner Philharmonie and Konzerthaus Berlin. Basilius is a co-founder of the Ramal Ensemble and a member of the West Eastern Divan Orchestra with whom he performed under the Baton of Daniel Barenboim at Venues like the Royal Albert Hall at the BBC Proms in London, Carnegie Hall in New York, Disney Hall in Los Angeles, Kennedy Center in Washington DC, Chicago Symphony Center, KKL in Luzern and Grosses Festspielhaus in Salzburg. Alawad is a graduate of the Barenboim-Said Academy in Berlin, where he studied with names like Sennu Laine, Michael Barenboim, he is currently doing his Master of film music composition at the Babelsberg Filmuniversitaet under award-winning composers as Jörg Iwer, Ulrich Reuter and Karim Sebastian Elias.
The Iranian violinist and violist Sadra Fayyaz, was born in Tehran in 1992. By the age of 16, he moved to France in order to pursue his musical studies. After obtaining his National Diploma at the Conservatory of Boulogne-Billancourt with the highest rewards, he began playing the viola at the age of 22.
During the same year, Sadra won the 1st and the special prize at the Concours National des Jeunes Altistes in Paris. Thereby, he decided to concentrate his attention, and focus his path towards the viola. Sadra had the privilege to study with Christophe Poiget, Michel Michalakakos, Isabelle Lequien, Alexis Galpérine, and Stéphanie Moraly in Paris. He had masterclasses with Gordan Nikolic, Olivier Charlier, Philippe Entremont, Yuri Bashmet, and Daniel Barenboim. During the summer of 2015, Sadra participated in the Carl Flesch Academy in Baden Baden to study with Hartmut Rohde. He was given a special prize, together with a certificate of appreciation by the Carl Flesch festival. Thereafter, he decided to move to Germany in 2016, where he was offered a full scholarship by the Barenboim-Said Akademie in Berlin. Sadra is an active chamber musician. He performs very often at the new Pierre Boulez Saal and also performed at the Salle Pleyel, and Salle Gaveau in Paris, Harris Theater in Chicago. He had the privilege to play concerts alongside Daniel Barenboim, Guy Braunstein, Michael Barenboim, Denis Kozhukhin, Michaela Martin, Frans Helmerson, Nobuko Imai and Nabil Shehata.
Sadra has been a member of the West-Eastern Orchestra since 2015.
Sadra enclosed his studies at the Barenboim-Said Akademie Berlin in 2020, in the class of the renowned Staatsoper Unter den Linden soloist Yulia Deyneka.
During the Corona pandemic, Sadra started a masters degree at the Freie Universität Berlin in the department of "Geschichts und Kulturwissenschaften",where he is focusing his research on the socio-political history of the Middle East.
Born in Tehran to a family of musicians, Vashka began the violin at the Tehran conservatory of music with Ebrahim Lotfi. After his graduation in 2009, at the age of 17 he moved to France to further on his studies. During the first years in France he studied with Stephanie Moraly in Orléans and Suzanne Gessner in paris and in 2013, he entered the Paris Conservatory (CNSMDP) in Philippe Graffin's class where he studied violin and chamber music.
In 2018 upon obtaining his masters degree Vashka moved to Berlin to study with Mihaela Martin at the Barenboim Said Akademie in a 2 year artist diploma program.

Constantly seeking to broaden his knowledge, he has sought and regularly seeks the advice of masters such as Daniel Barenboim, Ivry Gitlis, Jean-Jacques Kantorow, Pavel Vernikov, and members of the Alban Berg, Belcea, Ébène and Emerson quartets and the Trio Wanderer. Having a strong passion for chamber music both in its philosophy and in the musical universe made possible by it, he founded the Alda trio during his studies in Paris alongside Alexandre Kantorow (piano) and Jeremy Garbarg (cello) with whom he won the first prize at the FNAPEC chamber music competition in 2016.
 As a chamber musician Vashka has shared the stage with musicians such as Nobuko Imai, Frans Helmerson, Gérard Caussé, Marie Chilemme, Kyril Zlotnikov, Roger Chase, Amy Norrington, Jérôme Pernoo, Mihaela Martin and Philippe Graffin in venues such as salle Cortot in Paris and Boulez saal in Berlin. Vashka is currently based in Berlin where he is a member of the Divan orchestra and studies the viola with Yulia Deyneka and chamber music with Krzysztof Chorzelski at the Barenboim Said Akademie.
He has had the generous support of the Safran and Meyer foundations and plays on a violin made for him by Charles Coquet in 2017 and a Viola made by Gabriele Jebran Yakoub.
Ramallah based – Palestinian rapper and electronic music producer Haykal reflects the social reality about his roots, city and the surrounding in a freestyle lyrical approach referring to diversity in slangs as a way to communicate with various communities from the region through grime, rap and other music genres.