RAQS W/ 3LIAS, NESTA, RAPHAEL MERHEB, NAGUAL, SHI ZARIF AND OMAR AK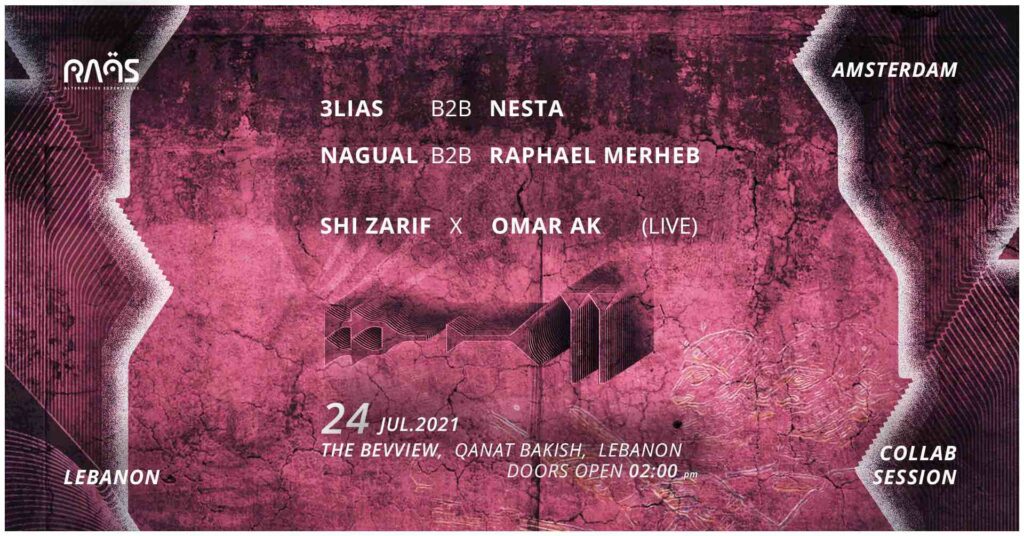 United to define the alternative experience of RAqS above the clouds for the first time in mont liban together with 3lias b2b Nesta reviewing the history of their musical journey, sharing the stage with Nagual b2b Raphael Merheb for a minimal Dj set and She Zarif x Omar Ak playing downtempo electro acoustic live set. In The Bevview, Qanat Bakish, Lebanon.
Shi Zarif is the alter ego of Aleppo raised, Beirut based, electronic music producer Philippe Zarif.
Philippe plays and composes Shi Zarif musical journey creating downtempo/chill-out music productions as well as Boshoco (House/Techno) and Phaylaq (Hiphop)
Omar Alakabani, a multi-instrumentalist raised in Sweida and graduated in Oud studies from the Damascus Higher Institute of Arts,
Both musicians come together in a hybrid set combining their own joint productions, live instruments and other curated music, to take you on a journey inspired from their backgrounds and experiences.
Nagual, Coming from a Rock background, as a musician, Nagual shifted to electronic music after moving back to his home country of Lebanon. He created and managed 1001 Sessions, a pop-up event label looking to create a storytelling experience through small events across different locations around the country. Playing and producing downtempo with a minimalist approach, he quickly found home in Minimal, collaborating and releasing music with local artists and labels.
Raphael Merheb  has been present in the scene for 7 years, both alone and as part of PTCH/WRK. Coming from a family of musicians, he co-founded A Tribe Called Tribe, looking to introduce the Minimal genre and the associated experience to the region. He also co-founded "Velloce, to reflect his techno side and has proven to be well versed it both styles
3lias (previously known as Stamina) is an electronic music producer, Dj and one part of the duo Atomic circus, based in Beirut, Lebanon. He immersed himself in music at a very young age by growing up in a family of musicians and artists which made him become one of the pioneers of Lebanon's electronic music scene by the mid 90s, granting him a residency at the most famous club in the middle east B018, which lasted ten years time. 3lias is also known for founding the collective A Tribe Called Tribe and the Orient Express record shop in Beirut as well as his collaborations with record label Fantome de nuit, Hypnotic ltd, Sleep is commercial and Club der visionaere.
Nesta, As part of the taste-makers in Beirut's clubbing scene, Nesta devised his Techno-drenched alter ego, Technophile. Technophile brought out the twisted, melancholic side of Nesta's music allowing him to delve into more experimental frequencies in the spectrum while maintaining the momentum of the Nesta alias. In 2014, Nesta founded his Beirut-based label Fantôme de Nuit (FDN) and devoted himself to producing massive tracks infused with elements from his Lebanese heritage and musically-gifted family and entourage that led to the creation of Nesta & Silky Raven landing an EP on Damian Lazarus's label Rebellion. FDN today includes an impressive ever-growing roster of talent from both Beirut and beyond. As of 2016, several vinyl and digital EPs and albums have been released, with many more in store for 2017. With that, Nesta has helped transform Beirut from a city that appreciates and consumes good music, Nesta has also remixed local heroes Mashrou3 Leila and Who Killed Bruce Lee. Nesta, Technophile and Fantôme de Nuit combine to create a versatile spectrum of music that stays true to its House beginnings, continuously evolves its inclination to Techno and refuses to abide by one genre or style.