RAqS w/ AL DARWISH and EMSALLAM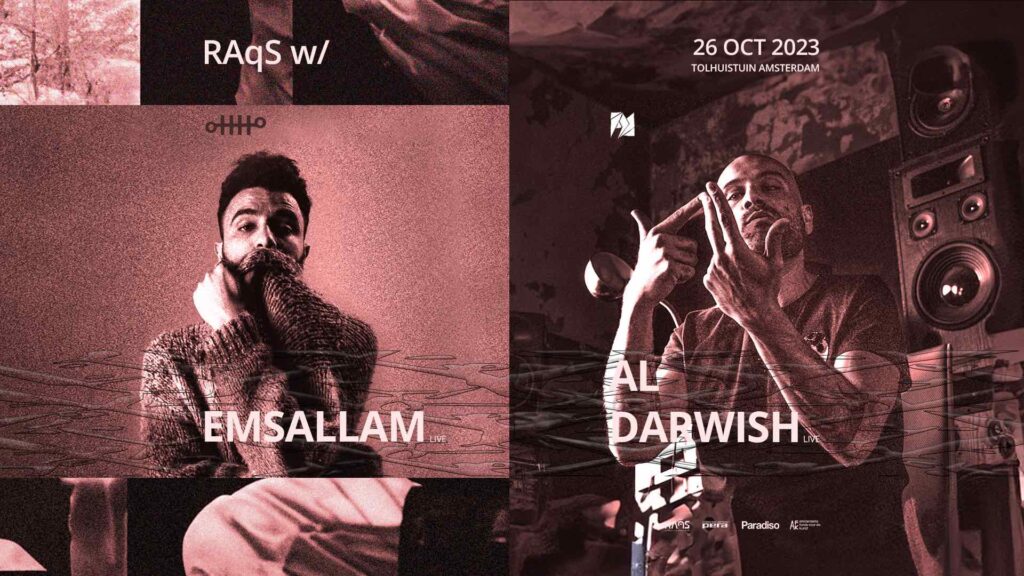 Hani Alsawah aka Aldarwish is a Berlin based prominent Syrian Arab rapper, producer\executive, Arab rap events curator and label owner. With two albums, more than 50 singles, 100 concerts and three battles to his credit.  Aldarwish is well known for his lyricism, wordplay and ability to freestyle. Collaborating with various artists, producers and musicians from a variety of genres contributed to the diverse range of skills and literacy he displays in his music.
Msallam Hdaib aka Emsallam is a Jordanian/Palestinian rapper, painter and audio visual artist based in Moscow. In 2016, he released his first solo album "The Last Step – الخطوة الاخيرة", arguably the first full-fledged trap album released by any artist in MENA region, with the chorus of the hit track "Khawa – خاوة' becoming a catch phrase in levant region. "Ijramen Anhen – إجرمن عنهن", released in 2018 as part of his second album laid the blueprint for an exciting fusion of Arab folk and trap. Emsallam released his second album Post-Colonialism in 2018, and Dyslexia under Keife Records in 2020. Msallam holds a Bachelor in Fine arts and a Masters in Ceramics and is constantly alternating and merging his creative expression between his two favored crafts, music and fine/visual arts. In all the artistic mediums he traverses, Hdaib uniquely challenges taboo subjects, offering unapologetic commentary grounded in a deep understanding of the political, cultural and artistic history of his region and beyond.