RAqS w/ Bu Nasser x Hello Psychaleppo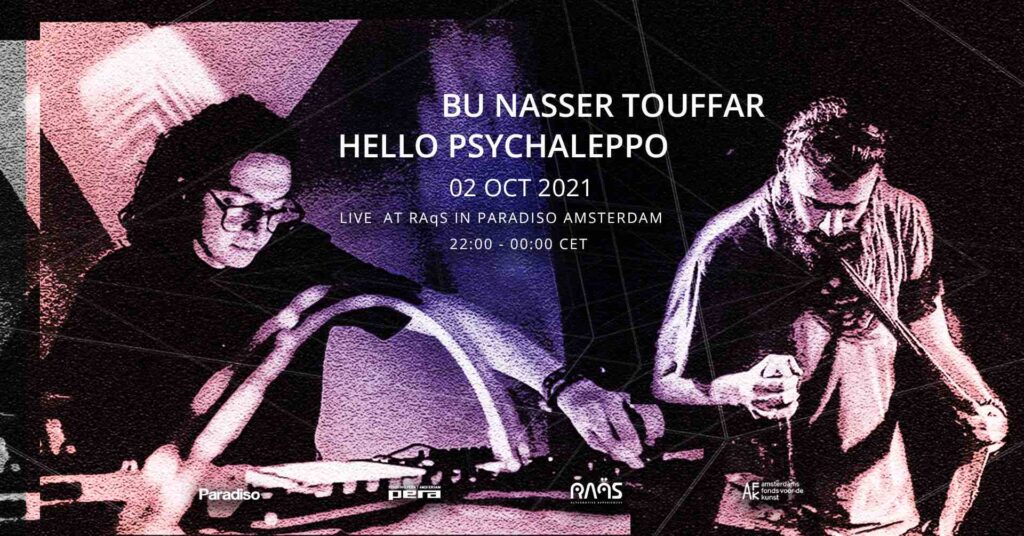 Bu Nasser Touffar AKA Naserdine Al Touffar, is a lebsanese writer and a rapper originally from Baalbek who raises his voice by singing to break the silence of a marginalized society, which the state has persisted in impoverishing and silencing it. His songs and writings were used as anthems in the Lebanese popular demonstrations and protests, the latest of which was the revolution of 17 october 2019.
Bu Nasser's project began in 2009 with the release of Touffar's album "The Companions of the Land ", followed by several solo and Collaborations with others who share the hope, questions, revolution and musical passion of rap performers and music producers. Some of them were collected in the album "Bu Nasser – Tatlit " in 2014, followed by successive new musical releases, the last of which was "Tar" in collaboration with Hello Psychaleppo. 
Hailing from one of the most mystical and musically rich cities in the Levant. Hello Psychaleppo is deeply rooted in Arabic music tradition, captivating listeners with melodic strains of Tarab threaded seamlessly together with the convoluted sounds of electronic music.
Hello Psychaleppo's compelling visual presentation is integral to the live experience that engages the soul and moves the body. Hello Psychaleppo is the brain child of Aleppian music producer and visual artist Samer Saem Eldahr.
Hello Psychaleppo has released three full albums, 'Gool L'ah' (2013), 'HA!' (2014) and 'Toyour' (2017) creating a journey for listeners into the world of Arabic melodies, elaborate arrangements, and cathartic dance music.