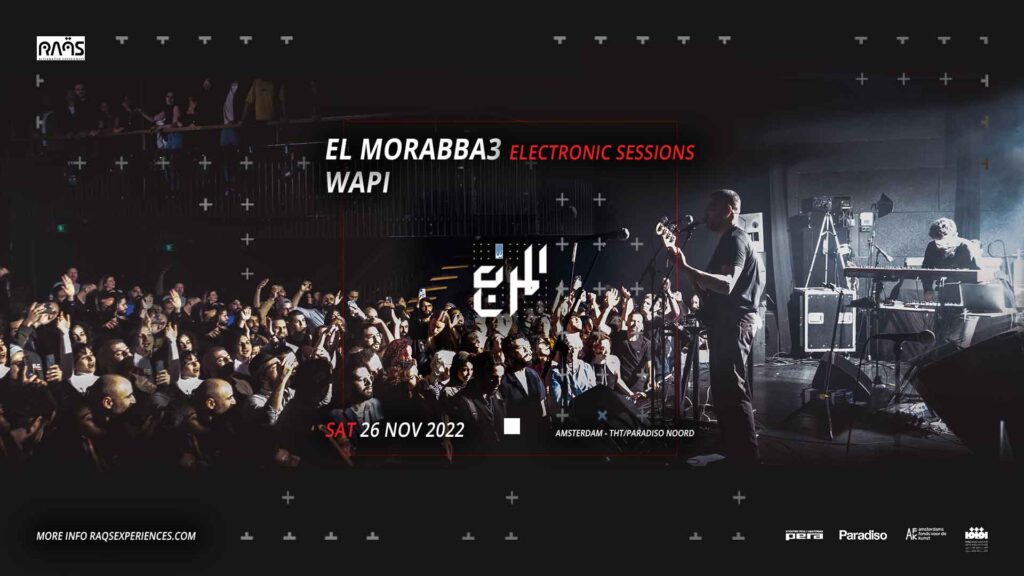 LIVE at RAqS, EL MORABBA3 explored uncharted electronic territory, performing both classic work reinvented for the future and exciting new tracks from their recent forays in experiment.  
Together with Vienna-based Turkish electronic artist and producer WAPI, EL MORABBA3's Mohammad Abdullah (vocals/bass guitar) and Basel Naouri (synthesiser/electronics) joined RAqS from Berlin to share their new sound in Amsterdam . 
El Morabba3 band was formed in Jordan in 2009 and released its first album titled "Al Murabba" in July 2012 and in 2016 the second album titled Tarf Al Khayit, confirming its position as a very popular band in the MENA region. El Morabba3's songs are distinguished by the aesthetic sense of the words that care about poetic and social responsibility at the same time. The music comes in a post-rock style with the clamor of guitar clips and elegance of rhythm. The sound space of the band is complemented by its international Arabic tones, and all these different sounds are enveloped in thin electronic layers to create a feeling that mixes sweetness and pain that embodies the inherited truths of this generation.
The band's artistic journey witnessed a change in members through the years turning it more into a collective project of musicians and producers currently lead by co-founder, singer songwriter and bassist Muhammad Abdullah. Accompanied by producer Basel Naouri on Keys,Trumpet and Electronic Production.