RAqS w/ El Morabba3, El Far3i, D3m0r and Eqtibasat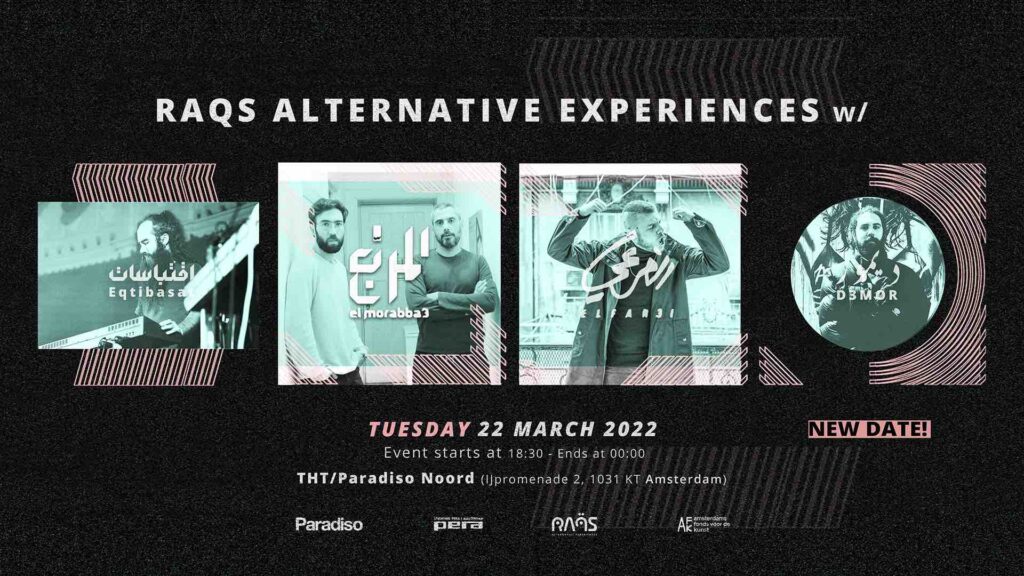 El Morabba3 band was formed in Jordan in 2009 and released its first album titled "Al Murabba" in July 2012 and in 2016 the second album titled Tarf Al Khayit, confirming its position as a very popular band in the MENA region. El Morabba3's songs are distinguished by the aesthetic sense of the words that care about poetic and social responsibility at the same time. The music comes in a post-rock style with the clamor of guitar clips and elegance of rhythm. The sound space of the band is complemented by its international Arabic tones, and all these different sounds are enveloped in thin electronic layers to create a feeling that mixes sweetness and pain that embodies the inherited truths of this generation.
The band's artistic journey witnessed a change in members through the years turning it more into a collective project of musicians and producers currently lead by co-founder, singer songwriter and bassist Muhammad Abdullah. Accompanied by producer Basel Naouri on Keys,Trumpet and Electronic Production.
With multi-fold projects in his music archive, El Far3i is a Palestinian and Jordanian songwriter, rapper, drummer, and producer from Amman, Jordan. Known for his dichotomous solo act El Far3i/ Far3 El Madakhil, he enmeshes Arab acoustic folk and hip-hop and continues to experiment sonically, evolving into the more recent forked axis, El Far3i Flux.
This project encapsulates the essence of both the versatility of styles and the complexity of ideas. It is a space within which a sense of freedom exists, enabling experimentations with different tools, instruments, and writing techniques… A vision rooted in the ideals of independence, yet branches out to reflect the journey. Those concepts race between observation and exaggeration, concealing at sometimes and pushing hard at others.
His songs come from his region's subconscious, with lyrics that archive the socio-psychological, political and personal subtexts of Arab daily life, extending to the diaspora. Themes of love, borders, spirituality and identity manifest. El Far3i's ever reflexive raw rapping style contrasts his soulful melodies, creating chantable anthems and craved earworms.
Haroun Ben Hamida aka D3M0R is a Tunisian, Paris based, a multi-genre DJ/Producer, tickles from breakbeat, Jungle to drum and bass. D3mor is also founder of web station Radio Flouka that has relied on the the goodwill of volunteers and a steady stream of Middle Eastern talent for their ultimate goal of redefining how the world sees contemporary music from the region.
Eqtibasat is an audio/visual project reflecting the core glitches and  experiences in the life of Guitarist/ Electronic music producer Hekmat Alkassar. First album under the name "Eqtibasat" means quotes in Arabic, was released in 2019, extending the transformative power of thoughts and emotions. Alkassar released the second music album and illustrations book "91 Portraits" in June 2020 and currently experimenting his works with new textures and electronic music techniques.