Raqs w/ Smokable ft. Fata Morgana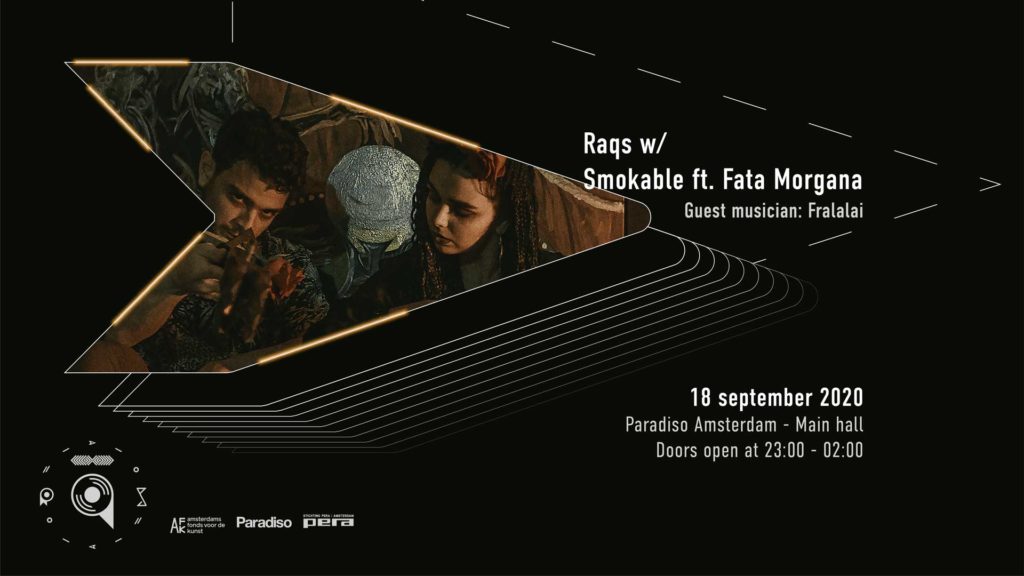 Raqs revived their nights and gathered on music that reminds us that, art is immortal and is the best way to reach joy.
This Event took a place in Paradiso Amsterdam on 18.September.2020
Smokable is a Syrian music producer from the city of Homs. He brings contemporary and ancient Syrian sounds together, utilising the guitar, synthesisers, vocals, and electronic music production to create a ritualistic experience that reflects the desert within.
Fata Morgana is an artist hailing from Transylvania, Romania. With her voice she explores folkloric ritual chanting all the way up to the high soprano skies. Throughout her versatile sound she involves instruments like the theremin, the piano, and synthesisers to create an unforgettable musical experience.
Together, Smokable and Fata Morgana, are artists creating under the 
Sefr Records
 Label. At its core, Sefr Records is a bridge of musical consciousness with no borders that seeks to bring artists from all over the world together beyond genre and restrictions.
Mayar is a theatre/stage director and performer who works closely with a variety of different elements that create the "performative Image" from light and set design, together with the performative bodies, and the dramaturgical concepts, the elements that merge and develop equally to create his visual sensorial experience. Mayar graduated from the higher institute of dramatic arts in Damascus (Syria) in 2013. Through directing projects like "A Ticket to Atlantis" (2016), "Three Seconds" (2017) and "Hanging" (2019) he was able to draw his professional artistic identity within the Arabic and the European theatre scene, collaborating with local and international artists and platforms.
Today his collaboration with Raqs comes as an open laboratory to mix mediums, experiences, and passion together in one melting pot.
Opening by the collective of Raqs and guest musicians 
Francesca Lai Fralalai
 aka 
Fralalai
 is an Italian harp player and singer-songwriter based in Amsterdam, mainly performed with Celtic harp and voice, also with other instruments such as lyre, frame drum and kalimba. Fralalai defines herself as a Neo-ancient trobairitz (female troubadour) who merges Mediterranean and Middle eastern tones, styles and languages in a cross-cultural blend which connects our modern times with the ancient worlds.